by: Elmer I. Nocheseda
An avid salacot collector traces the origins of this native headpiece
Neither "hat" in English nor sombrero in Spanish will ever translate to salacot (salakot). Much would be lost in the translation if these two words were used. Salacot is never an English cap or a Spanish gorra.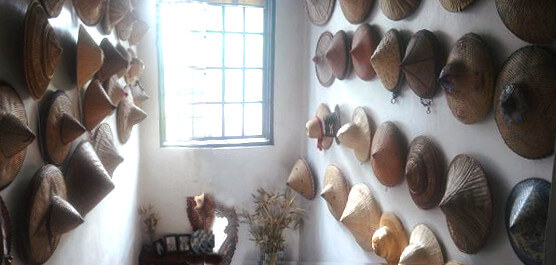 A salacot in Romblon form
Salacot refers to the peculiar broad-brimmed headgear, mostly conical in shape, worn by Filipinos as they work in the fields and the sea. Lacking words for it, salacot is already in Spanish and English dictionaries as filipinism, or words they borrowed from us.
Without knowing it, I have collected so many salacots that I almost filled two walls in our house! My wife teases me that she will hang me with these salacots if I bring home another one. But my obsessive-compulsive self tells me that my collection is not yet complete. So, every time I am on a trip, I am on the look out for a curious salacot.
The salacot is a Filipino curio that attracts interest. The 19th century Filipino painter Mariano Asuncion made a delightful work of art showing a collection of various salacots worn in the Philippines of his time. He drew 24 different hats, 14 of which are salacots.
My interest in salacot started when I bought the 1859 lithograph called India de Pateros by Englishman C.W. Andrews. He drew a robust and barefooted farm girl from Pateros. She is holding her slippers with her left hand, while wearing a smile and a very broad round salacot on her head. Early photographs reveal the finer weave and detail of this salacot with red cotton tinsels on top. I have searched for a specimen of this salacot but failed to find any. They are now extinct artifacts - no one makes them anymore.
Early Salacot Interest
Each variant of salacot has a name, depending on its provenance. Salacot is a term derived from the Tagalog and Pampango dialects. The sayap and binalano come from Maguindanao, while the T'bolis call theirs as s'laong. From Bohol and Samar comes the saruk, which is called sadok in Sorsogon. Among the Ilocanos, the salacot is called the katukong or tukong, the one we mostly identify with Diego Silang.
Antonio Pigafetta, the chronicler of Magellan's 1521 voyage to Samar, made an earlier account of the "young and beautiful" queen, who "wore a large hat of palm leaves in the manner of parasol, with a crown about it of the same leaves like the tiara of the pope; and she never goes any place without such one." The National Artist Carlos "Botong" Francisco immortalized this scene in a mural now hanging at the National Museum. Botong visualizes for us not only the queen's salacot but also nine other salacots of her subjects and warriors.
Because the salacot is taken for granted as an everyday object, its unique qualities are rarely admired. However, this hat is integral to the Philippine way of life. As an artifact, it establishes a link between the Filipinos and their environment.
Salacot Status
The value of the salacot is appreciated under the heat of the sun. The image of the local farm worker is never complete without the salacot. A farm worker from Morong, Rizal wears his dituhog pugot made from flour sacks or katsa, dyed locally as dinampol, and long-sleeve bentang-maong jacket. His salacot tops and completes this ensemble. This is either woven from bamboo splits called tinipas (that is, made in Tipas, Taguig) or takukom made from dried gourd.
On the other hand, there are more elaborate pieces. During the Spanish regime, the materials used indicate the position of the wearer in the social hierarchy. The economic elite wore hats so finely woven it was thought that they were woven with horsehair. The commoners wore those made of bamboo and other coarse material like palm leaves and vines. Exposed to cosmopolitan life through trade and contact, the Filipino elite adapted imported styles of clothing and foreign elements in their dress. They also made their salacot elaborate.
Some salacots were richly adorned with silver, although gold was also used occasionally. Mexican coins from the galleon trade were pounded into silver ornamentation of repoussage technique. They bring out intricate design and patterns in relief. They were worn by the upper class and associated with persons of rank or social status, particularly those elected as cabezas de barangay (village head), capitanes or gobernadorcillos (town mayors).
Salacot Vanity
Fernando Fulgosio in his Cronica de las Islas Filipinas, published in 1871, noted that an elaborate salacot is part of the Filipino man's vanity. They boast of fine materials and exquisite craftsmanship, being woven from jonquil, fine bamboo strips or rare tortoise shell, and elegantly decorated with rich needlework and embroideries. The nito de Baliuag is so fine it can be folded and put in one's pocket and takes years to make.
The French writer Jean Mallat in his book, Les Philippines, published in 1846, described the vainest salacot. "A salacot, embroidered and covered with silver, preserves them from the sun and rain, and has moreover the advantage of being capable of taking the place of a pillow for sleeping... The Indios consider these hats as some of the precious objects they possess; they give them away, take them back, stake them, and use them in a way of currency. The story of an Indio hat passing from hand to hand and following so many vicissitudes would be interesting to write."
Mallat details this salacot for us: "The shape of the salacot is that of a small umbrella, 18 inches in diameter by six inches in depth, and whose circumference forms a perfect circle. The center shows a circular rim woven of rattan inside, for receiving the top of the head. The framework and material of this salacot are ordinarily made of bamboo or rattan varnished black; sometimes it is made of very strong skin of the uguana (nitong el nito), a kind of very fine fern, whose bark is also used for the material for hats which are made so perfectly in the province of Camarines, Albay, and Bulacan, where they are sold very dearly."
He further writes that salacot is not only part of a noble Filipino costume but also his heirloom. "Some of the people still keep the long silk pants called saya, whose lower part is embroidered and which used to be worn by the maguinoones of the pueblos. Their sinamay shirt, always worn over the pants, is covered by the chupa, a vest made of broadcloth or printaniere. A green shawl, worn as kerchief, and a hat of antique shape, kept for perhaps a hundred years in the family, complete their costume."
He describes for us a costume made of coconut husks that we would no longer see: "Some kind of impermeable coats and pants form it. Nothing is stranger than to see them thus clothed, with their heads covered with the large hat to which they have given the name of salacot. They recall to mind completely the figure of Robinson Crusoe in his island."
Salacot Uses
Though I hang the salacot to decorate a blank wall, its primary function is a protective headgear for those who work for long hours outdoors. One cannot appreciate the value of the salacot unless one works long and hard under the heat of the sun.
In humid weather, the hat may be used as a fan. It can serve as a bilao or large flat basket as Dr. Jose Rizal told us, in retelling the Maria Makiling tale, that as a parting gift to the wounded peasant, the diwata filled his salacot with yellow ginger. Upon coming home, his wife found that the salacot, instead of containing ginger, contained gold.
Certain salacots have an underlay, which is a convenient place for storing tobacco, betel nut, notes, or small valuables. In folk dances, the salacot is used to enhance the dance figure and hand movement. In Marikina City, their symbol focuses on the character of its people represented by a man wearing a salacot and camisa de chino. The salacot traces their native origin, while the camisa de chino his oriental character - a modern day Juan de la Cruz.
Golden Salacot
How much is a salacot? Well, it could be as cheap as P50, or it could be worth the whole island of Panay! Datu Puti, the Malay chieftain purchased the island of Panay from the Ati chief Marikudo for the token value of a hand-beaten gold salacot and a gold necklace for his wife, Maniwangtiwang. The romantic tale became enshrined in history books and even formed the basis for the Ati-atihan festival. It was later exposed as an elaborate hoax.
However, despite its doubtful origin, the story nevertheless emphasizes the importance of the salacot in Philippine life. The Salacot Gate greets duty-free shoppers at Clark Field. We built the Salacot Pavilion during the Osaka Expo in 1974. While Uncle Sam wears a comical tap hat, our Juan de la Cruz, the image for our Filipino selves, wears a salacot.
Salakot Regions
I collect salacots that have practical use. I do not buy those that are meant for tourists. I enjoy the fusion of form and function and the intelligent use of available material. I highly value the creation of texture and design that comes out of the weaving and plaiting process. I admire the other utilitarian features like inner pockets and head rests.
The tapisan is worn over a turban in Maguindanao. It is one of the finest hats made of thinly split bamboo strips over a coarser bamboo frame. Indigenous designs are woven like elegant textile patterns by using smoked bamboo strips in contrast to the natural color.
Another rare and fine hat is the binalono, which is made by the T'boli by coiling fine reeds, sewn together with thread to form the shape of a dome. A coconut shell and a piece of carved wood finial top the hat. It takes months to finish one hat so this is now rarely seen, though a coarser version appears in the market from time to time.
The Romblon salacot is made of woven buri strips, each with an overlay of four split nito strips. The outer ream is spit bamboo with an inlaid design of woven nito. The selection and placement of dark and light nito makes design a major factor in this otherwise mundane item. Two layers of open hexagonal weaving hold firmly a layer of palm leaves in between. Adjusting the weave of the open work forms the crown. They are generally made without mold.
Joloano saro of the Tausug is very finely finished like soft fabric of woven black nito vine, creating intricate textile patterns. Only about 30 cm in diameter and 15 cm in height, it usually tops a man's turban. It has more symbolic function than utilitarian. The last time Nur Misuari was seen wearing this hat was when he fashioned himself again as a renegade Muslim rebel after years of serving as governor of ARMM.
The cone-shaped saruk of the Samal or Badjao in Sulu and Tawi-tawi is made of woven nipa o pandan leaves, whose natural creamy color is retained. Geo-metric, spiral, or con-centric lines are some-times painted on the hat. Saruk is neces-sary for pro-tection from rain and against the sun's rays. It comes in several designs but the most common is the conical style, which is held safely in position by a cord or nito chain.
Some salacots are meant only for women, which are wide-brimmed with a small conical top. Anthropologists note that perhaps it is because women work harder and longer in the fields than men. So men's hats are more ornamental than practical. The wide-brimmed salakut of Batangas are given feminine charm with added red trimmings, fringes and embroidery. People were looking at me when I bought one in Batangas City and hand-carried it, sometimes putting it on my head, all the way to Pateros.
Fortunately, my wife hasn't hung me on the wall beside my salacots as she said she would. My collection is still growing and these days, I am finding that I need more wall space in the house. So, if anyone wants to share his salacot, just let me know, and I will try to convince my wife to let me hang it in our bedroom!